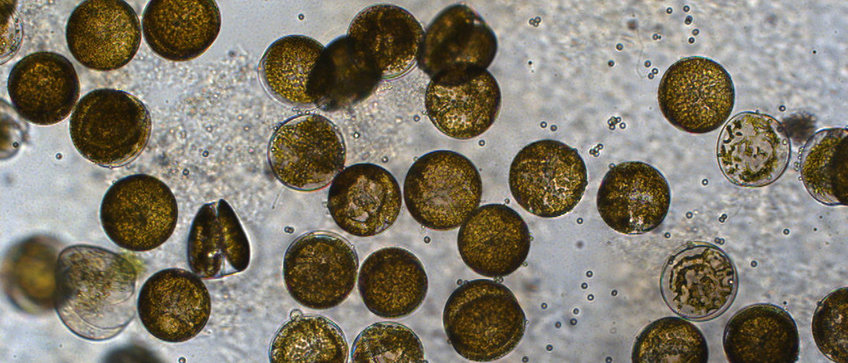 Publikationen von Georg Pohnert
1.
Zeitschriftenartikel
Cysteinolic acid is a widely distributed compatible solute of marine microalgae. Marine Drugs
2.
Zeitschriftenartikel
14
, S. 13.1 - 13.33 (2021)
Temporal and spatial signaling mediating the balance of the plankton microbiome. Annual Review of Marine Science
3.
Zeitschriftenartikel
Pheromone mediated sexual reproduction of pennate diatom Cylindrotheca closterium. Journal of Chemical Ecology
4.
Zeitschriftenartikel
17
, S. 1313 - 1322 (2021)
A new glance at the chemosphere of macroalgal–bacterial interactions: In situ profiling of metabolites in symbiosis by mass spectrometry. Beilstein Journal of Organic Chemistry
5.
Zeitschriftenartikel
Mating type specific transcriptomic response to sex inducing pheromone in the pennate diatom Seminavis robusta. The ISME Journal
6.
Zeitschriftenartikel
Untargeted metabolomics unveil changes in autotrophic and mixotrophic Galdieria sulphuraria exposed to high-light intensity. International Journal of Molecular Sciences
7.
Zeitschriftenartikel
Soil solution analysis with untargeted GC–MS—A case study with different lysimeter types. Frontiers in Earth Science
8.
Zeitschriftenartikel
Simultaneous real-time measurement of isoprene and 2-methyl-3-buten-2-ol emissions from trees using SIFT-MS. Frontiers in Plant Science
9.
Zeitschriftenartikel
Metabolomics-derived marker metabolites to characterize Phaeocystis pouchetii physiology in natural plankton communities. Scientific Reports
10.
Zeitschriftenartikel
21
(17), S. 2419 - 2424 (2020)
Mammalian-like inflammatory and pro-resolving oxylipins in marine algae. Chembiochem
11.
Zeitschriftenartikel
2
concentration and iron availability determine the metabolic inventory in an Emiliania huxleyi‐dominated phytoplankton community. Environmental Microbiology
22
(9), S. 3863 - 3882 (2020)
High CO
12.
Zeitschriftenartikel
59
(32), S. 13511 - 13515 (2020)
Sulfonium acids loaded onto an unusual thiotemplate assembly line construct the cyclopropanol warhead of a Burkholderia virulence factor. Angewandte Chemie International Edition
13.
Zeitschriftenartikel
The Seminavis robusta genome provides insights into the evolutionary adaptations of benthic diatoms. Nature Communications
14.
Zeitschriftenartikel
26
(28), S. 6205 - 6213 (2020)
Pyrrolic and dipyrrolic chlorophyll degradation products in plants and herbivores. Chemistry – A European Journal
15.
Zeitschriftenartikel
Phytoplankton‐derived zwitterionic gonyol and dimethylsulfonioacetate interfere with microbial dimethylsulfoniopropionate sulfur cycling. Microbiology
16.
Zeitschriftenartikel
Single-cell bacterial transcription measurements reveal the importance of dimethylsulfoniopropionate (DMSP) hotspots in ocean sulfur cycling. Nature Communications
17.
Zeitschriftenartikel
Identification to species level of live single microalgal cells from plankton samples with matrix-free laser/desorption ionization mass spectrometry. Metabolomics
18.
Zeitschriftenartikel
trans, trans-2,4-Decadienal, a lipid peroxidation product, induces inflammatory responses via Hsp90- or 14–3-3Zeta-dependent mechanisms. The Journal of Nutritional Biochemistry
19.
Zeitschriftenartikel
Ectoine from bacterial and algal origin is a compatible solute in microalgae. Marine Drugs
20.
Zeitschriftenartikel
14
, S. 2675 - 2690 (2020)
Iron is not everything: unexpected complex metabolic responses between iron-cycling microorganisms. The ISME Journal