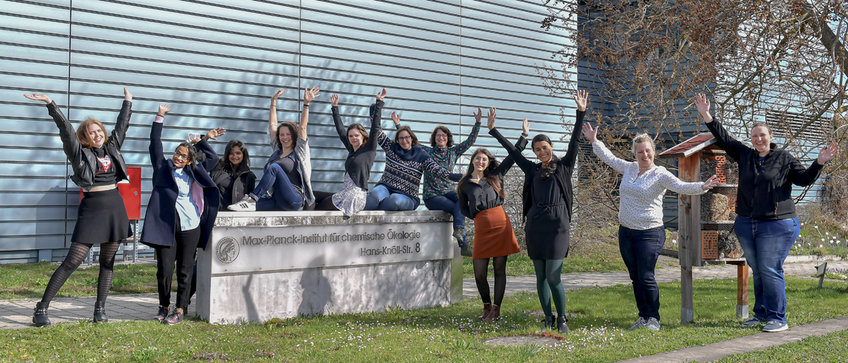 Equal chances for all!
The MPI for Chemical Ecology stands up against discrimination. We follow the aims and goals of the Max Planck Society:
"Talent, creativity and passion - those are the qualities the Max Planck Society relies on. The Society supports employees irrespective of their gender, nationality, religion, disabilities, age, cultural background or sexual identity."
The MPI for Chemical Ecology:
backs equal opportunities for all and acts to implement all requirements aimed at establishing equality and to offer attractive framework conditions
focuses continually on career advancement and pays special attention to its female scientists: they are still heavily under-represented at managerial levels, and their future prospects are less clear than those of their male colleagues
strives to offer structured support to young scientists in order to help them achieve their individual career goals
builds bridges to facilitate the reconciliation of family life, leisure and career and to bring about more women in managerial positions
has made a voluntary commitment: In a period of five years (currently to 2017), it is aiming to increase the proportion of women in managerial positions on three different pay groups by five percentage points in each case.
How we are building bridges
For the long term, the Max Planck Society has signed up to the overarching goal that it should be possible to embark on qualification paths in science without encountering any gender-specific barriers: because special career advancement mechanisms or qualification elements for female scientists contain the fundamental risk that existing structures will be left unchanged; changing them, however, in a way that creates space for diversity, is both motivation and aspiration alike to the Max Planck Society.
This is also documented by the "Opportunities" Committee chaired by Vice President Asifa Akhtar. The objective is to work with the scientific Sections to implement an expanded equal opportunity strategy on a lasting basis and to smooth the way for cultural change. Such a cultural change has a good prospect of succeeding if it is supported and driven by all functional and hierarchical levels including Institute Management.