Martin Kaltenpoth appointed honorary professor at Friedrich Schiller University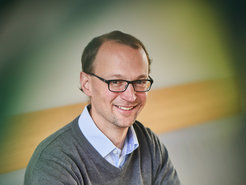 On October 23, 2023, Friedrich Schiller University (FSU) Jena, represented by its Vice President Prof. Dr. Christoph Steinbeck, awarded Martin Kaltenpoth the Honorary Professorship of Evolutionary Ecology in the university's auditorium. At the Academic Ceremony, hosted by the FSU Faculty of Biosciences, Martin Kaltenpoth spoke on the topic "Die mikrobiellen Helfer der Insekten: Evolution und Ökologie von Insekten-Bakterien-Symbiosen" (The microbial helpers of insects: evolution and ecology of symbioses between insects and bacteria).
Martin Kaltenpoth heads the Department of Insect Symbiosis. "I am pleased to now be a member of the Faculty of Biosciences at the University of Jena and hope to further intensify and expand the interactions and collaborations between our institute and colleagues at the university in the future," said the new honorary professor.