Sarah O'Connor elected as Fellow of the Royal Society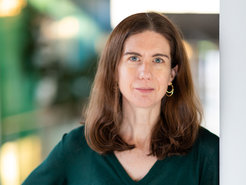 Outstanding researchers from all over the world were elected as the newest Fellows of the Royal Society, as was announced today. Among these scientists honored by the society is Sarah E. O'Connor, directors of the Department of Natural Product Biosynthesis.
As the Royal Society declares, Sarah O'Connor has been a pioneer in developing the modern field of plant natural product biosynthesis. She has been at the forefront of developing methods and resources to uncover the enzymatic basis for the biosynthesis of complex small molecules produced by plants. She has made seminal contributions to our understanding of the enzymatic and mechanistic basis for a wide variety of plant natural product pathways. She has elucidated the pathways of numerous molecules including vinblastine and strychnine, uncovered the mechanism underlying the enzymatic transformations that comprise these pathways, and developed innovative metabolic engineering strategies for the production of these compounds.
The Royal Society the UK's national academy of sciences and the oldest scientific academy in continuous existence. The new fellows join the ranks of Isaac Newton, Charles Darwin, Albert Einstein and Lise Meitner.
https://royalsociety.org/news/2023/05/new-fellows-2023/