Certificate of Merit for Silke Sachse
The head of the Olfactory Research Group is honored by the Council of the International Congress of Entomology.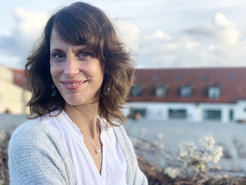 The Council of the International Congress of Entomology has announced that Dr. Silke Sachse, head of the Olfactory Coding Research Group, will receive the Certificate of Merit, a new award for outstanding mid-career entomologists, at the 27th International Congress of Entomology 2024 in Kyoto, Japan. The announcement of all awardees who will be honored at the 2024 Congress in Kyoto was made via YouTube (see https://www.youtube.com/watch?v=wAUlKvMNVGA).
Silke Sachse received her PhD from the Free University of Berlin in 2002 with the distinction "summa cum laude" for her dissertation "Odor processing in the honeybee antennal lobe" supervised by Prof. Giovanni Galizia. After her PhD, she received a postdoctoral fellowship at the Rockefeller University in New York to join the lab of Prof. Leslie Vosshall. In 2006, she joined the Department of Evolutionary Neuroethology headed by Prof. Bill Hansson at the Max Planck Institute for Chemical Ecology as a project group leader. Since 2008, she has led the independent junior research group Olfactory Coding. After turning down a call for a W2 professorship at the University of Würzburg in 2016, she holds a permanent group leader position at the institute, equivalent to a W2 professorship.
Using the model fly Drosophila melanogaster, Silke Sachse and her team are investigating the neural basis of olfactory perception in insects. By combining neurogenetic tools with state-of-the-art techniques such as in vivo two-photon microscopy, anatomical tracing, neuronal reconstructions, optogenetics, as well as a variety of behavioral assays, her group has identified crucial neuronal mechanisms that enable an insect to encode, process, and interpret the wide array of environmental odors to accomplish odor-guided decisions.