Martin Kaltenpoth elected EMBO member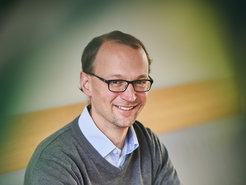 Martin Kaltenpoth is among the new members of the European Molecular Biology Organization (EMBO), the Heidelberg-based scientific organization announced today. EMBO is a non-profit organization whose goal is to promote research and international exchange in the life sciences. EMBO membership honors distinguished scientists for outstanding contributions to biological research.
Martin Kaltenpoth is director of the Department of Insect Symbiosis at the Max Planck Institute for Chemical Ecology. The evolutionary biologist focuses on symbioses between insects and microorganisms. Such mutually beneficial relationships have been existing for millions of years. Hence, microbial symbionts play a very important role in the ecology and evolution of insects, as they are involved in the development of new habitats, the utilization of food components, and defense against enemies and pathogens. The research of Martin Kaltenpoth and his team aim to characterize the diversity of bacterial symbionts in insects and their importance for host ecology, tracing their evolutionary origin. They are also interested in the physiological and genomic consequences of symbiotic lifestyles to determine which molecular mechanisms determine the specificity of a symbiosis. Martin Kaltenpoth conducts his studies, which involve a combination of ecological experiments, phylogenetic analyses, as well as molecular biological, chemical analytical and microbiological methods, on beewolves, firebugs, fruit flies and various beetle species.
"It is an honor for me to be elected as an EMBO member. Being part of this community of outstanding scientists in molecular biology will provide excellent opportunities for networking and learning about the current frontiers in molecular biology. And I am particularly excited about contributing to EMBO's current ambition of bringing the whole organism and its environmental context more to the attention of molecular biology research," Martin Kaltenpoth describes his excitement about becoming a member of EMBO.
The next EMBO General Assembly, at which new members will also be officially introduced, will be held in Heidelberg, Germany, October 25-27, 2023.
EMBO press release published on July 4, 2023: EMBO announces election of new members