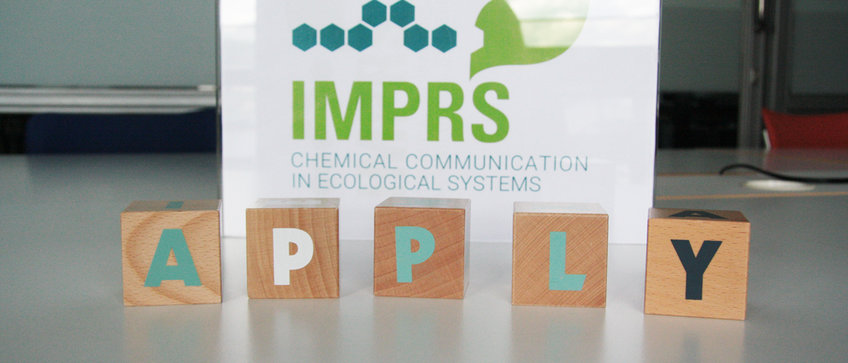 Current Application Call
Every year, we advertise up to 5 IMPRS-funded PhD positions through a three-step recruitment procedure.
Who are we looking for?
We are looking for internationally trained, enthusiastic applicants with a strong motivation to pursue a PhD, adequate competence in the English language and an excellent academic performance and MSc degree (including MSc thesis) in one of the following fields: bioinformatics, analytical chemistry, entomology, neurobiology, molecular biology, biochemistry, plant physiology, genetics, ecology or evolution.
What do we offer?
Highly integrative projects which require willingness to embrace multiple disciplines and close collaborations with other researchers with different backgrounds
Exciting research questions
State-of-the-art equipment
An excellent research environment
A structured training program
Successful candidates will obtain a 3-year PhD position corresponding to TVöD (Collective Wage Agreement for the Civil Service). There are no tuition fees; consumables and equipment required for the project will be covered by the hosting lab.
The working language is English
Selection and Admission
1) Online-submission of your application documents
To apply online, you will have to:
Create an account using a valid e-mail address
Activate the account by following the link you received by email
Log into your account and start the application
Fill in your personal data, education, experience and motivation into online forms
Upload files; i.e. your Curriculum Vitae (not longer than three pages), your Study Record (summary of your education and training at college/university) and your Certificate (the most recent and relevant one!). All documents must be uploaded as PDF documents and must not be bigger than 5 MB.
Provide the e-mail addresses of two referees who will write a letter of recommendation for you. You will receive a link to forward to your referees which they can use to upload their references
Submit your application by clicking on "Submit Data". Once submitted, the application cannot be changed anymore.
2) Pre-selection
Applications will be evaluated by the IMPRS Committee based on the qualifications, recommendations and the applicant's research interests and motivation. It is important that applicants link their interest to the research themes of the school and the projects on offer in the current application call. After screening all completed applications, the committee will come up with a short list of candidates to be interviewed by phone. This process will take 2-3 weeks.
3) Phone interviews of pre-selected candidates
Pre-selected candidates will be asked for a phone interview. After the interviews, IMPRS faculty will settle on candidates to invite for a recruitment event in Jena. This takes about 2-3 weeks. Applicants who neither passed the pre-screening nor the skype interviews, will be informed at this stage.
4) Recruitment event in Jena (on-site) or online (due to pandemic) for short-listed candidates
Short-listed candidates will be invited to a final two-day, on-site or online recruitment which takes place about 3-6 weeks after the interviews. At this recruitment, candidates will have to give a talk and will be interviewed by several IMPRS faculty members. During an on-site event, they will get the opportunity to get a closer look at Jena, its historic sites, culture and night life. They will also be introduced to the Friedrich-Schiller University, the Max Planck Institute for Chemical Ecology, and the IMPRS family. Reasonable travel expenses will be reimbursed. Offers of admission to the IMPRS will be made one week after the group recruitment. The preferred starting time for the PhD program is January; other arrangements are possible.